The third 2018 HOGS golf day was held at Gerrards Cross Golf Club on the 6th July. We hadn't played Gerrards Cross before & we were treated to an exceptional day with a very well-watered & manicured course & great hospitality. Thanks go to Gerrards Cross GC – we had a fabulous day.
It was another hot day, with sun cream & lots of water being fundamental requirements. The greens were consistent & fast. It was great fun & another great "hidden gem" – well done Jerry Browne!
For the golf enthusiasts the average individual members stableford score for the day was 29 points.
Congratulations go to all 16 winners particularly the winning team (below L) who scored an astounding 90 points! – Jason Wischhoff (Dream Hotel Group), Ian Macfarlane (Nat West), Rob Harris (Elementa Consulting) & Alim Hirji (Ashley Hotels)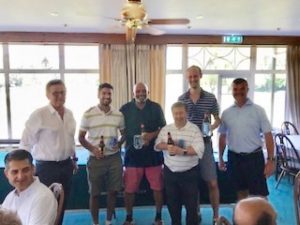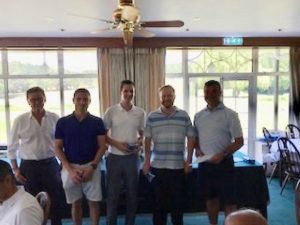 The second placed team scored a commendable 88 points & comprised: (above R) Tom Duck (Fed3 Projects), Dominic Seyrling (Host Hotels), Mark Doughty (Hoare Lea) & Tim Wheeldon (Zeal Projects)
The team in third place with 81 points comprised; Rob Tunna (Axiom), Simon Lancaster (Whitbread), Mike Ellis (Simpson Associates) & Tony Clark (Zeal Projects).
Congratulations also go to (L to R) Tony Clark with the best members score of 36 points and winning the HOGS claret jug, Jason Wischhoff for nearest the pin in two and Mark Doughty won the HOGS driver head cover for the longest drive. In addition, Mike Young (Santander) won nearest the pin on the tricky 16th hole.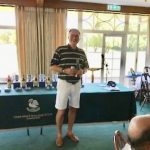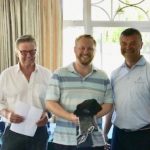 The next HOGS Golf Day is Thursday 23rd Aug at Kingswood Golf Club & invites have already been sent out. Looking forward to another great day & see you there!
Further HOGS dates for your diaries:
1. Thursday 27 Sept Sandy Lodge Golf Club – £80.00 p/p
The HOGS Committee